Lab Manager 80-100% (m/f/d)
Our company is looking for an experienced Lab Manager who will help us to further build up our recently launched CRISPR cell line development service business (CellEDIT Service). If your dream is to work in a laboratory that combines high-tech microscopy and Nobel Prize-winning genome editing tools, and you are gifted with extraordinary organization skills, we are the perfect match.  
With your work, you make a significant contribution to our success, and you get the opportunity to actively shape our operational biology lab processes. On top of that you will be part of an exciting company growth step towards laboratory automation. We offer an exciting work environment in an ambitious and smart team. Your ideas and participation are welcome, and you work autonomously and closely with our customers.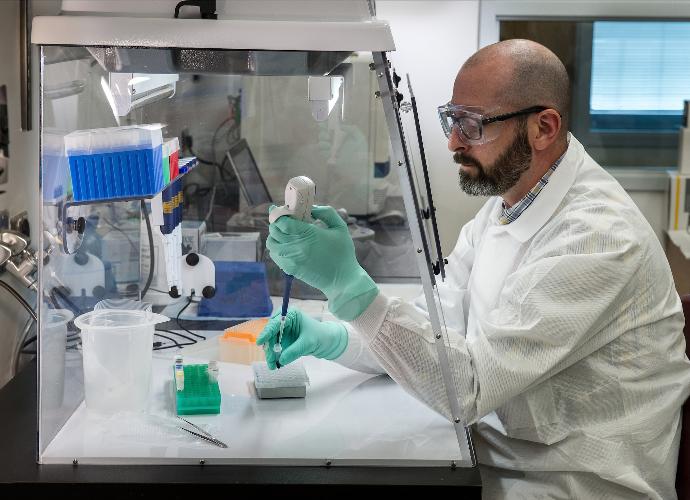 Your Challenge
Daily Lab Operations
Planning, organizing, and ensuring smooth running of our daily operations at the biology lab.

Hands-on lab work in close collaboration with our existing team of 4 cell biologists.

Securing compliance with lab industry standards.

Responsibility to apply safety regulations.

Establishment of new and improvement of existing lab processes and procedures.

Ensuring a well-equipped lab incl. purchasing of lab supplies and consumables.

Maintenance, calibration and cleaning of our lab equipment and instruments incl. troubleshooting of system errors.

Participation in organization of our lab extension.

Involvement in testing and set-up of automated lab work.
​
Additional Responsibilities
Regular weekend and public holiday work (only a small amount of work hours) for cell culture maintenance 
​

Your Profile
Apprenticeship as a laboratory technician, with specialization in biology

Alternatively, a bachelor's or master's degree in cell biology 

A minimum of 3 years of experience as a lab manager in a medium or big sized laboratory

Biosafety Officer Education (BSL2)

High proficiency and business acumen in English in written and spoken form.

Proficient knowledge of laboratory best practice procedures

Experience with cell culture methods (regular and primary cell lines)

Very strong organizational skills and ability to keep an overview in a very dynamic environment.

You love working in a team. 

Technical affinity for system troubleshooting and experience in working with ERP's and electronic lab journals is a plus
Independent and diligent work attitude



Our Offer
Far-reaching responsibility in a dynamic environment

Working with a unique technology

Varied and exciting tasks within a diverse team

Demanding work with a lot of freedom of choice when it comes to planning your day

Flexible working hours in an informal and pleasant environment

Work in an innovative company with high growth potential
​

About Us
Cytosurge is a synthetic biology enabler. We are dedicated to fulfilling the unmet need for implementing complex genetic designs into gene-edited mammalian cell lines. We thereby bridge the manufacturing gap between the advances made in data driven genetic design tools and tangible applications of genetically engineered cells. The company applies a patented single cell bottom-up gene editing process and groundbreaking dynamic gene expression analysis capabilities to construct, evaluate, and debug complex synthetic mammalian cell lines. We are thereby effectively addressing a major pain point of current genetic engineering workflows in mammalian cell lines. Our initial focus lies in enhancing therapy manufacturing for future cures, with the ultimate goal to empower genetic engineers to concentrate on designing next-generation gene edited mammalian cell lines, confident that their visionary concepts can be realized.
Collaborative
Company Culture

Why should you join our team?

At Cytosurge you can take part in the genomic revolution! You will be part of an interdisciplinary team in a modern company. We live an open, collaborative, and constructive company culture where each colleague can contribute. We also place a clear focus on flexible working hours and live the value of work-life balance. 
Are you interested in contributing to our mission? We look forward to meeting you!